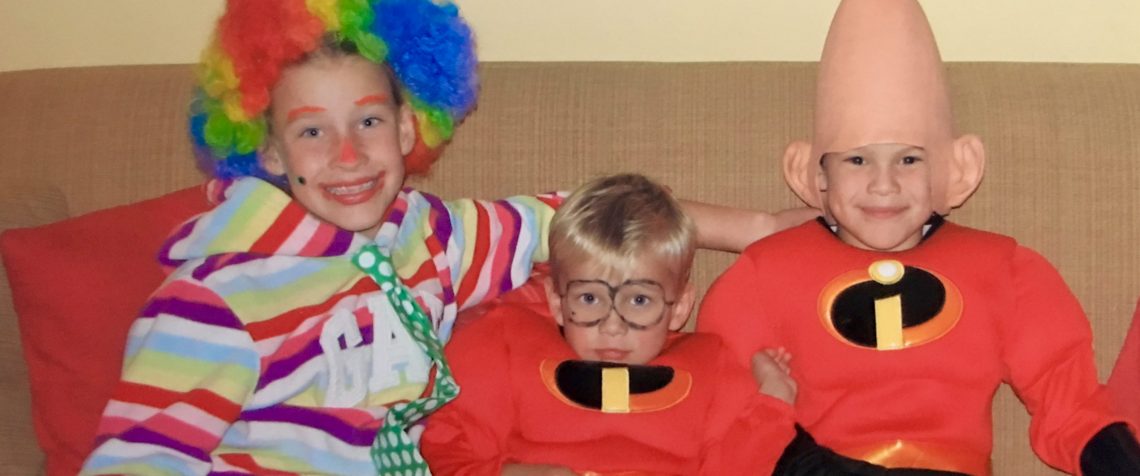 Walking into the premier of Incredibles 2, with our favorite candies hidden beneath our sweatshirts, my brothers, Colin and Brendan, and I could hardly contain our excitement. We were only seven, five and two years old when the original Incredibles premiered, but we'd watched it enough times on DVD to know almost every word. Now, fourteen years later, as two college students and a growing teenager, we giggled like toddlers while watching what proved to be a brilliantly nostalgic, yet refreshingly socially conscious, return to our favorite childhood characters. I couldn't have been happier. That night reminded me of everything I loved about watching movies as a kid.
There are few things my family enjoys more than laughing. When we find a movie that makes us laugh, we tend to watch it repeatedly, pulling out lines to fuel an endless supply of inside jokes. So when I think about my childhood, it's easy to break it down into a chronology of the films I watched with my family.
When we were young, one rule reigned supreme: if a movie wasn't appropriate for the youngest member of our family, Brendan, then it wasn't appropriate for any of us. Since I was five years older than Brendan, our family movie choices rarely strayed far from G-rated, animated films with animal protagonists, preferably those who could play sports. By the time I was ten we'd seen every movie in the Air Bud franchise. Twice. In one of our family's favorite movies, Motocross Kids, a teenage Josh Hutcherson costars with a motorcycling monkey. We later discovered an entire subgenre of films starring monkeys playing sports, which we aptly called "the monkey movie." It quickly became a Friday night tradition for my dad and I to drive to the Hollywood Video store on Mass Ave and sift through the VCR collection, looking for any monkey movie we could get our hands on. After, my parents could escape for a quiet dinner date while my brothers and I stayed home with a babysitter, comforted by the familiarity of our on-screen animal friends.
When I was in middle school, having exhausted, or dare I say outgrown, the "monkey movie" genre, my parents opted for a return to the classics with movies from the 1960's. With the end of the VCR era, my dad and I lamented the closing of Hollywood Video but welcomed Netflix, the novel DVD service that brought new movies to our house every week. My brothers and I connected with our parents through the nostalgic shows and films of their own childhoods. Crowding together in front of our house's single television, we watched every season of Get Smart, and the full-length, It's a Mad Mad Mad Mad World. My brothers and I laughed at the slap-stick blunders of Maxwell Smart while my parents cackled at the wittier political jabs that went flying over our heads. That was the beauty of these communal viewing experiences— whether we were truly laughing at the same thing, there was always something for us all to enjoy, together.
During the tumultuous (and ongoing) years of adolescence, the movie theatre was a place where my mom and I could escape from the chaos to bond (and cry) over movies like Woman in Gold or Lady Bird. And even though the G-rated rule didn't apply anymore, Colin, Brendan, and I rarely missed a premier of an animated movie. Some of our favorites included Despicable Me, Secret Life of Pets, and Monsters University, which we saw as a family twice in theaters before buying the DVD.
If there's one thing I've learned from watching movies across my lifetime, it's that consuming media doesn't have to be an isolating experience. My memories of the movies of my childhood are inextricably tied to the memories I have of laughing with my brothers, tearing up with my mom, and bonding with my dad. And I consider myself lucky. By monitoring the movies I watched, my parents protected me from those rich with violence, sex, and drugs that may have exposed me to content I would find disturbing or confusing. With the introduction of Netflix and the world of online streaming, the way we watch movies is changing, but the effect that they can have on a child is not. I've found that it's not only what we watch that matters, but how and with whom we watch media. Finding ways to connect with others over our viewing experiences, and daring to separate ourselves from the individualized interface of streaming sites, can create memories that last longer than the running time of a movie.
Walking out of the theatre after Incredibles 2, my brothers and I were feeling nostalgic and full of praise for the movie we'd waited fourteen years to see. Of course, some nights I'm happy to just curl up on the couch and watch a rom-com that I know my brothers would never willingly watch with me. But nights like these are the ones that I remember and make me smile.
-Maeve McNamara
-edited by Sarah Wolfson