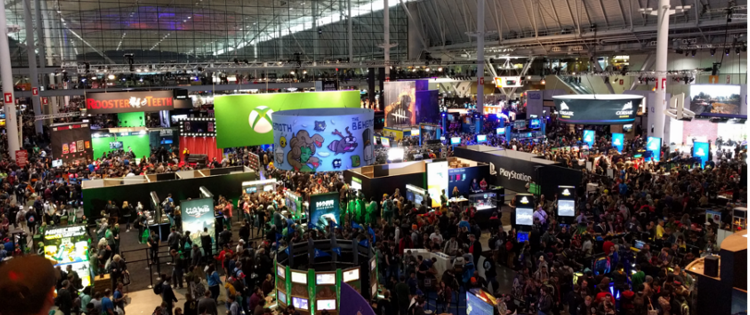 Dear Reader,
Welcome to another Media Moment! This month, Wesley Sanders, a post-doctoral fellow at the Boston VA Healthcare System and clinical psychology research affiliate of Boston University, shares how parents can better understand kids' gaming interests and learn ways to support their children's healthy media use by attending video game conventions with them. These stories are meant to help create a village square of commiserating and co-celebrating the many ways media intersect with our lives and the lives of children. Please comment and even submit your own 'Moment' to share with your fellow readers.
Enjoy your media and use them wisely,
~The Mediatrician®
So Your Child Wants To Go To A Video Game Convention
As both a clinician and a researcher working with children and families, I've noticed that many parents are concerned about their child's video game use, particularly the amount played and their exposure to violent/inappropriate material. In fact, research in collaboration with my colleagues Drs. Justin Parent and Rex Forehand suggests that excessive video game playing can place children at risk for a variety of behavioral problems, as well as reduce sleep quality. Setting aside the educational games, most of us may look at video games as the epitome of wasting time –a distraction from what kids should be doing that we deem much more beneficial to their development. So why in the world would you let them go to an enormous convention celebrating video games? Well, researchers are increasingly finding that more parental communication, involvement, and even co-viewing of media can be helpful when setting limits on media use with their children. Recent recommendations from the American Academy of Pediatrics) echo the importance of being involved with your child's media use. Our own research has shown that parents who are less intimidated and more knowledgeable about media devices are more effective at managing them in the home. So, with that in mind, why not consider diving in and attending a video game convention with your child?
I want to take a moment to highlight some of the hidden benefits and also surprising connections I've made since attending the annual Penny Arcade Expo (PAX) in Boston for the past five years. Although my personal observations have been limited to this particular convention, many of these themes are present among all gaming and even other media-centric events, like conventions for anime, movies, and comics. Important side note: these conventions are open to all ages, but from my experience most attendees are aged from early adolescence onward. Whether you feel your child is old enough to attend a convention like this is up to you, and I hope you will find the information below helpful in making this decision.
Not Just Shooters
If you are a parent worried about the headline-grabbing violence in video games, it may be helpful to know that there are many games that are very different from first-person shooter and fighting games. Tools to create video games have become more accessible, leading to new and unique experiences created by small teams of independent game designers and even other kids. These "indie games" are becoming more common, and reflect a wide range of themes such as loss, identity, and love. Immersing yourself in your child's world of video games for a day also helps you get up to speed on the kinds of games coming your way in the future, as many of the games in these conventions are yet to be released. Board games are also represented here, so even if you aren't a "digital" gamer yourself you might enjoy taking one of those games for a spin.
Mental Health Support
Anxiety and depression are among the most common mental health difficulties reported in adolescence, and a supportive environment can be enormously important for helping kids break through stigma and talk to someone. Several panels and talks at these conventions focus on encouraging kids to support others struggling with mental health difficulties, and provide resources on what to do when they or others are grappling with these problems. These talks open the door for parents attending with their children to discuss some of these difficulties. For more information about mental illness and the video game community, I recommend checking out the non-profit organization, Take This  which is present at many of the video game conventions across the country. The Take This website offers resources and advice on various mental health concerns provided by licensed psychologists.
Issues of Diversity
A convention should be a celebration for everyone that loves video games, and in recent years organizations have made positive strides regarding issues of diversity and inclusivity. PAX has a diversity lounge, which provides a safe space for gamers to meet, chat, and take a break from the busy convention floor. If you or your child is interested in connecting with organizations focused on diversity in gaming, the community is growing. Organizations like ineeddiversegames, Gaymerx, and Geek Girl Con all bring their much-needed voices to the community.
Community
Kids of all ages find others to bond with over their interests and to share and talk. Strangely enough, most of the time I see kids in these conventions making friends and talking with others rather than playing video games! For some kids, this may be the first time they are allowed to celebrate their interest in gaming, so the environment is overall incredibly positive. This positivity is infectious, which makes it much easier to introduce yourself and make fast friends. Also, perhaps because the interactions are in-person and not over the internet, inappropriate language is kept to a minimum – this is especially surprising for those of you who have heard what some kids say over the microphone when playing online games.
Conclusion
Video games often bring with them a lot of concerns about time, violence, and how playing them may influence children's school performance and health. Over the years the gaming community has continued to evolve and grow, offering spaces for children to connect with others, find their identity, and engage in new and unique experiences that don't involve picking up a virtual gun. Conventions like these offer an opportunity to "lean in" to your child's interest in gaming and perhaps explore a bit of this crazy world yourself. In my clinical work, whenever I see a parent show curiosity about the games their child is playing, their child is always excited that mom or dad wants to know more about what they're doing (sometimes giving them more of an earful than they expected!). Attending an event like this could give you both plenty to talk about and help inform your decisions around your child's media use.
Have you or your child gone to one of these conventions? Share your experiences in the comments!
~ Wesley Sanders
(photo credit: Wesley Sanders)