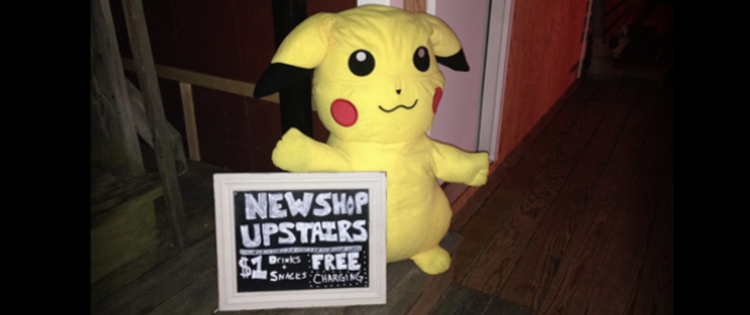 Dear Reader,
Welcome to another Media Moment! This month, Katy Nicholson, an NH native living in Northern Virginia and working for the marketing department of a public transportation agency, shares her experience with Pokémon Go in the tiny, historic town of Occoquan. These stories are meant to help create a village square of commiserating and co-celebrating the many ways media intersect with the lives of children. Please comment and even submit your own 'Moment' to share with your fellow readers.
Enjoy your media and use them wisely,
~The Mediatrician®
Pokémon in Occoquan: A Love/Hate Relationship
"Do y'all see a Squirtle over there? Oh never mind, you're moving a mattress."
A few months ago, that would have sounded preposterous, especially at 11 p.m. on a Sunday. Now it's just par for the course here in Occoquan.
About a year ago, I moved into a condo half a mile outside of town. Occoquan, a tiny river town with approximately 1,000 residents, seems to pride itself on being quaint, quirky, and a little rough around the edges – Mayberry meets Stars Hollow. It's inexplicably a true small town in the midst of your typical Northern Virginia sprawl. There are plenty of lifelong locals here, as well as newcomers seeking some solace from the NOVA hustle and bustle.
Ironically, most people in the region recognize the name Occoquan from the rush hour traffic reports – traffic on I-95 is particularly excruciating on the nearby bridge that passes over the river. Despite its proximity to several highways, Occoquan itself usually enjoys minimal traffic. There are no traffic lights in the town, only stop signs.
This doesn't mean that Occoquan always shuns the spotlight. It's a popular destination for day-trippers, for one thing. More specifically, all of the roads in town essentially shut down for two weekends each year and visitors are shuttled in to the craft show that runs along the entire main street. But the craft show is a finite event that contributes to the tiny town's economy, so residents resign themselves to either leaving or staying put for the weekend.
Until I read this article in the Washington Post recently, I didn't realize that Occoquan had been hit so disproportionately hard by the Pokémon Go craze. According to the article, the town's proximity to the river and its historic sites and businesses make it a hotspot for the little critters. The phenomenon also happens to be more noticeable here than in bigger cities. I've seen people walking all over DC with their eyes glued to their phones even before the game debuted, but that kind of behavior stands out more in a small town where you can't walk a block without encountering someone you  know.
We could all argue for days over whether the game is good because it's getting young people outside and keeping them out of trouble, or bad because it's reducing them to zombies who only view the world from behind their electronic devices. The truth, as I see it, is that a lot of people were prisoners to their phones and computers long before this game arrived. Pokémon Go is just a manifestation of a broader issue.
My dogs and I run into (often literally) the players on our evening walks. The dogs are bewildered that all these people are milling around without paying any attention to them. Similarly, the town's naysayers seem especially perturbed that the Pokémon hunters are omnipresent, yet contribute minimally to the town's economy. A few shops are taking advantage of the increased foot traffic, boasting later business hours and sporting new signage welcoming Pokémon seekers. Others clearly are not so amused by the game, and have posted signs indicating that no Pokémon play is allowed in the shops, or that it is limited to customers only.
A few weeks ago, I was enjoying dinner on the porch at one of the latter businesses, and I noticed a steady stream of smartphones pointed in my direction. My friend happened to know one of the people behind the phones, so we stopped him and grilled him for a few minutes. Through the app, he showed us that one of the prized Pokémon was sitting right behind us. He also explained that the game appeals to 20-somethings like himself because they were the first generation of Pokémon fans and that the game allows them to relive their childhood, blending real-life and fantasy in a way they only could have dreamed of as kids.
Personally, I'm amazed at the game's ability to bring together people of various ages, races, and genders. The players seem eerily oblivious to their surroundings, but they all seem to be pleasant and relatively quiet. And the parents who take their kids to town to play the game just might think of one of the restaurants they saw the next time they're planning a date night.
So far, the trend – and I do believe it's a trend that will quiet down when school starts back up – seems pretty harmless to me, and I make fun of my friend, one of the longtime residents, for his "Get off my lawn!" attitude. At the same time, I recognize that people live here because it's a small, quiet town, and they know how easily that can change. Hopefully we can welcome a younger generation and the technology that goes along with it, while retaining the history and character that makes this town so special.
In any case, I hope that guy found his Squirtle.
~ Katy Nicholson