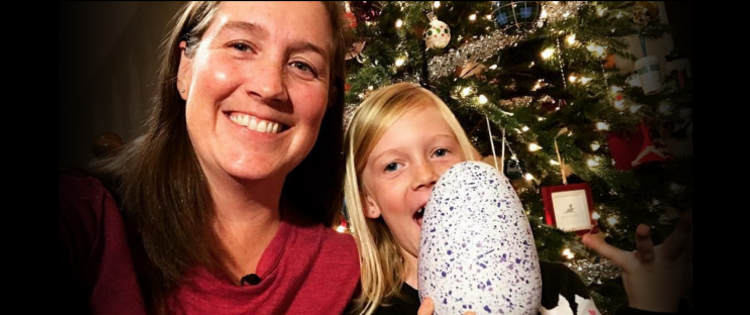 Dear Reader,
Welcome to another Media Moment! This month, Gina Sheesley, a freelance writer and mother of two living in Kentucky, shares how she dealt with her 8-year-old daughter's media-fueled desire for a popular holiday toy and used the experience to talk about advertising. These stories are meant to help create a village square of commiserating and co-celebrating the many ways media intersect with the lives of children. Please comment and even submit your own 'Moment' to share with your fellow readers.
Enjoy your media and use them wisely,
~The Mediatrician®
Spin Master and Mastering Spin
Did anyone else's child not receive a Hatchimal during the holidays? My daughter was one among many who desperately wanted a flashy, rainbow-eyed, bird-like creature to care for and call her own. She talked about it incessantly and watched every imaginable reenactment of them emerging from their speckled eggs, envying all the starry-eyed kids pictured in the videos who had experienced the magic "for real." Is this thing really worth the 50 dollars? I asked myself, staring at the dog-eared toy catalog that had been methodically starred and circled by my kids. Of 19 requested items, Hatchimals was listed prominently as the number one item on my daughter's Christmas list.
Sooner than later, 50 dollars was no longer the going price. First I noticed that Target had a sign on their door announcing that they were sold out of Hatchimals but would be getting one more shipment on a particular Sunday. They notified all desperate adults that they could line up single file before the store opened at 8 a.m. and that there would be a limit of one Hatchimal per customer. I almost went. Then I checked eBay. If you wanted to skip a Black Friday-like experience or if your preferred retailer was not receiving any more shipments, you could buy a Hatchimal for hundreds of dollars instead. Or spend a few thousand on multiples!
That's when I decided to break it to her. "Sweetie, you need to know that you will not be getting a Hatchimal for Christmas. And here's why." I passed my phone to her with the eBay search results. "Mommy, why do they cost so much now?!?" she gasped. Cue my attempt at explaining supply and demand in second grade terms, how people with zero interest in the actual Hatchimals were buying them to re-sell and make a profit, not to play with or give away as gifts.
Her anger at this news powered a 1.5 mile training run for the 5k we would later do together. She talked non-stop. "That's not fair! They don't even love the Hatchimals! They're not going to care for them! Kids who will love them and take care of them should get them for $50! That's the point!" And on, and on, and on.
At dinnertime, the venting began again and my husband posed a question to her. "Why do you want a Hatchimal so much? When did you start wanting one?" "Well, I saw an advertisement about them when I was playing Dragon City. And I saw their cute faces in the Target catalog. And then Addison* was talking about them and we watched YouTube videos of them hatching on her tablet. And Destiny* wants one, and Anika*, and Isabella*, and…"
My husband patiently tried to explain the irony of the situation. The same advertising, media exposure, and bandwagon effect that had led to her personal interest in the toy is also what had stoked demand so high that the price skyrocketed. What made Hatchimals so unique anyway? Every year there would be at least one toy that would experience this same phenomenon. He reassured her that all she needed to do was wait a year or less and she could easily save up and buy one. This didn't exactly appease her. She went to her room later and wrote a mini manifesto titled High Prices, concluding that, "We want to stop this from happening. So we have to plan for something to stop it."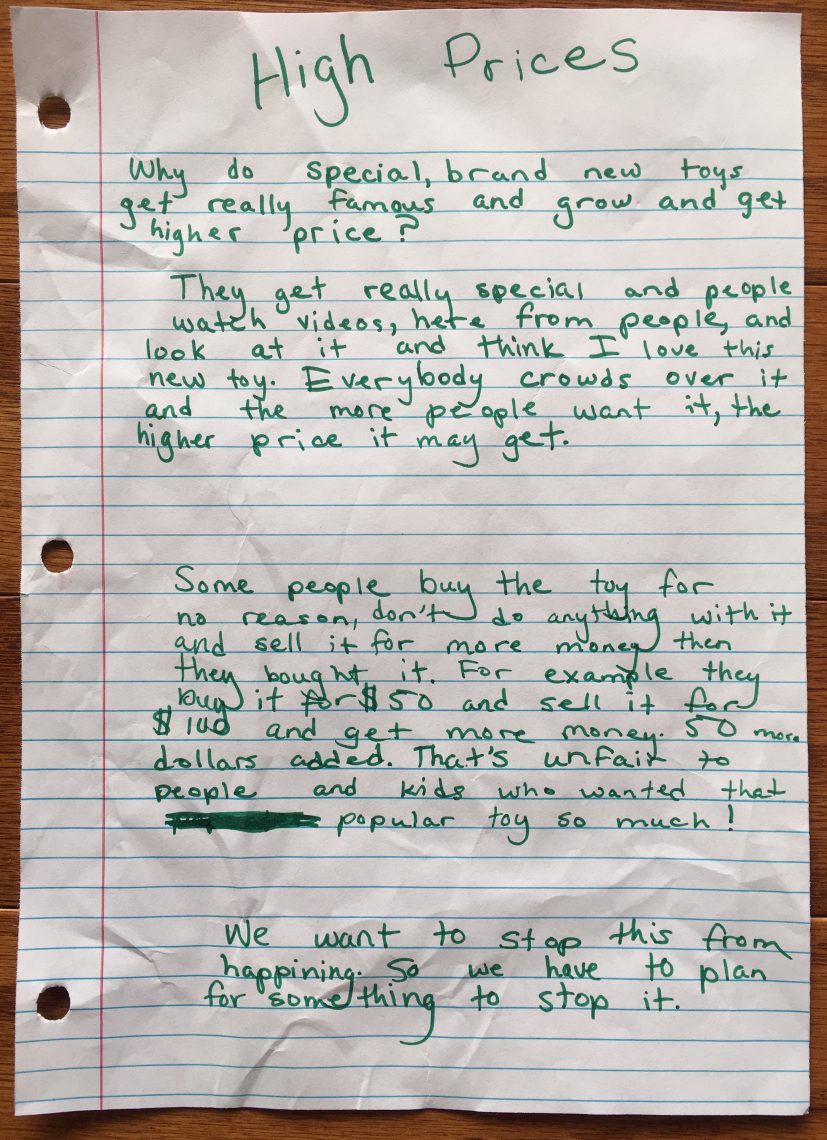 It is a month after Christmas now and she has a fair amount of money stashed away burning a hole in her pocket. My son has long since spent his holiday cash on a large Lego set he had been eyeing for almost a year. While his money is nearly gone, he's hoping he can convince his sister to spend hers on something that might also interest him. My husband recently asked our daughter if she was considering buying a Hatchimal now that they are readily available again. "Well, I was thinking about it but I might get a Lego Elves set instead…"
Media, and the crazes it can trigger, have striking influence over my children. The name of the company that produces Hatchimals—Spin Master—is apt. Perhaps our daughter is hesitant to buy a Hatchimal now because the spike in prices made her so upset. Perhaps she sees the spin and the bandwagon effect for what they are. More likely, however, is that media hype cannot sustain an advantage over the opinions and approval of her big brother.
~ Gina Sheesley
*Names have been changed
(photo by mama! mia! /CC by 2.0)