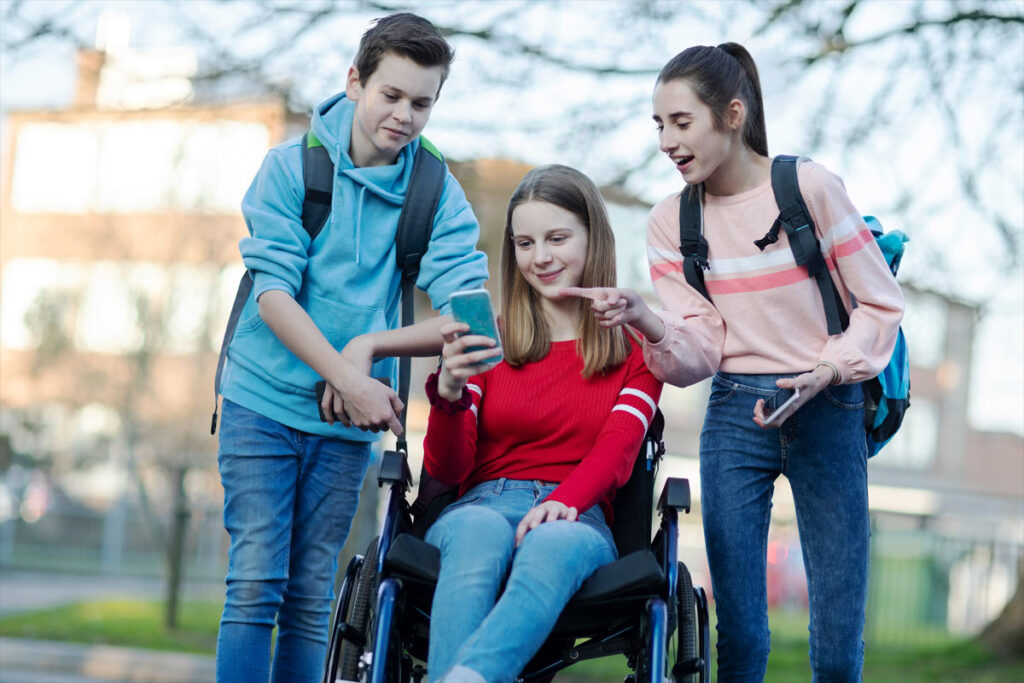 Developmental Themes
During this life stage, also known as preadolescence, children start to think differently about school and learning, place more importance on their friendships, and begin the initial stages of puberty. Although they are moving towards becoming more independent, parents should pay close attention to the developmental changes that occur at this stage, including:
Physical Development
During this time, body shape and composition often change rapidly, and secondary sexual characteristics develop. It is important to encourage tweens to eat healthfully and take part in regular exercise that they enjoy to maintain their physical health. Some other changes that may occur in early adolescence are acne, pubic hair growth and females will have their first menstrual cycle.
Self-Concept
At this age, self-awareness centers on external characteristics, due to the all of the many and fast occurring physical changes tweens are experiencing. It is common for tweens to pay a lot of attention to their body changes and judge their appearance. Parents should continue to support tweens' healthy self-image to help them avoid developing negative body image or eating disorders.
Cognitive & Moral Development
This stage brings the transition to logical thinking, reasoning and judgment. These new cognitive skills may occur at differing rates for different parts of tweens' lives, thus there may be variation in where and how tweens apply them. Even though tweens are better able to make logical decisions at this stage, they are often swayed by their emotions and need guidance when facing important choices.
Social Skills
Tweens tend to become less interested in activities their parents are interested in, and more interested in their peer groups, especially with peers of the same sex. This shift in behavior can help encourage and support individuation and independence from Tweens' families. It is important for parents not to confuse this behavior with extreme withdrawal or problematic hostility. Tweens may choose role-models (who aren't their parents), such as teachers, mentors, or even other children's parents. Many tweens encounter new structures when moving from elementary to middle school, and that change often mirrors separation from a family. However, parents and teachers should be concerned if a child is unable to adapt to the new structure after a few months.
Sexuality
Tweens often exhibit an increased interest in sex and sexual anatomy and may experience anxiety in regards to sexuality. Many tweens will start to compare themselves sexually with their peers, however, at this stage, there is limited dating and intimacy.
Media and Tweens
Media can be a wonderful addition to the lives of tweens; however, it is important to be aware of what media and how much media are appropriate and inappropriate at this stage of development. It is also important to note that the Academy of Pediatrics recommends that that parents set media limits for their children based on the individual child.
Television and Movies
As with younger age groups, the Digital Wellness Lab recommends that parents work to find a balance between time for media and time for family, friends, school, and sleep. Parents need to monitor how much time their children spend in front of the screen in order to avoid an increased risk of obesity, depression, and sleep deprivation.
Movies and TV shows aimed at tweens may emphasize the importance of appearance, which has the potential to negatively affect a tween's body image.
There are many educational documentaries and TV shows for tweens that can foster their learning. Help your child be mindful about the movies and shows they watch by talking about the messages portrayed and what it means to them and why. Tweens can continue to work on developing their media literacy skills by thinking critically about the TV shows, movies and advertisements they see.
Print Media
Magazines are a print medium popular with preadolescence. The airbrushed images of both male and female models that appear in many of the magazines targeting this age group can affect how male and female tweens think about body image and self-esteem. Advertising in magazines (and other mediums) can also affect children's preferences for merchandise and even food.
In regards to literature, tweens may begin to explore more mature themes through books. If you are looking for book suggestions for your tween, ask your local public librarian, or browse the website of The American Library Association, which compiles book recommendation lists with age-appropriate content.
Music
Your tween may start listening to different types of music and sharing music interests with their friends. Although you may not enjoy your tween's taste in music, listening to music can be an effective way for preadolescents to regulate their moods and reflect. Keep in mind that your tween may be listening to music that has sexist or otherwise inappropriate language; glorifies drug, alcohol, and tobacco use; or is degrading, sexist, or homophobic in nature. Lyrical content has the potential to negatively affect a tween's behavior, so combat the potential negative effects by discussing your tween's music choices and having them think critically about the messages in their favorite songs.
Social Media
Many social networking sites require users be at least 13 years of age, so be aware of a site's terms of service before helping your tween circumvent the age limit. Tweens who are socially anxious may feel more confident when chatting with their friends online; however, tweens with social media accounts may have a more negative body image.
Video Games
Video games labeled by the ESRB as "E 10+" (for everyone 10 and older) may be appropriate for tweens in this age range. However it is important to cross-reference any industry rating by reading reviews, watching trailers and/or playing the game yourself to make sure that it is developmentally appropriate for your child.
Playing video games with others (whether with their friends or family members) can be a social activity for tweens, which encourages cooperation and patience. Video games that include a physical or fitness component can also encourage children to be active.
Mobile Media
Children in this age range may become more interested in mobile devices, and may start to request one of their own. Deciding whether to give your tween a cell phone or tablet depends on their level of maturity and independence. If you decide to give your child their own device, make sure that they are engaged in age-appropriate activities, and only connecting with people they know. This is a great time to set ground rules, such as charging all mobile devices in a parent's bedroom overnight, and prohibiting cell phones at the dinner table. Tweens are also at risk of injury when they are distracted by a cell phone while walking. Always leave the lines of communication open when it comes to discussing any problems or questions your child may encounter while2 using the device.
Computers and the Internet
At this age, parents are likely to allow their children to use the computer without their supervision. While children can certainly benefit from the many possibilities the internet affords them, such as creating videos, connecting with friends, playing educational games and conducting research for school, parents and children need to practice internet mastery and time management to avoid the many risks of using the web. Parents should monitor their tween's computer and internet use by keeping internet-connected devices in common rooms, and by asking their tween to show them what they are doing online from time to time.
Developmental Themes Source: Behrman RE, Kliegman R, Schor NF, St. Geme JW, Stanton B, Nelson W. (2020). Nelson Textbook of Pediatrics. Philadelphia, PA, Elsevier, Inc.
Other Ages & Stages
Related Topics