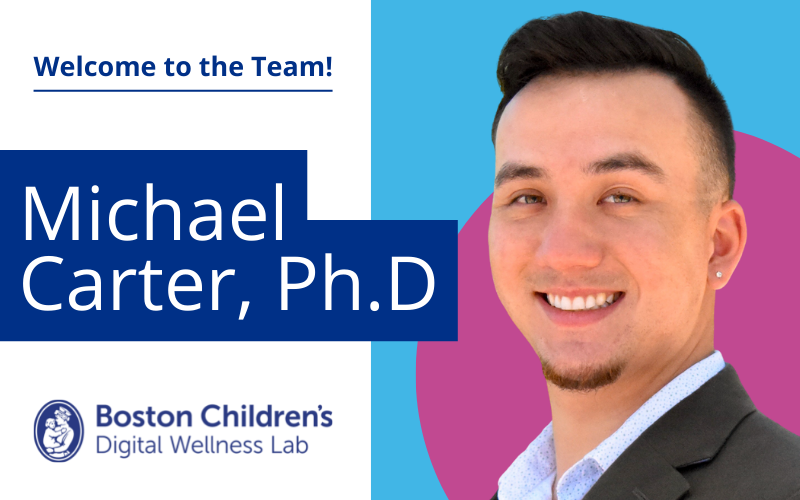 Within his role as a Post-Doctoral Research Fellow in Digital Wellness, Michael will work with the Lab to investigate ways to advance the design of interactive media for the health and well-being of youth.
Dr. Carter's previous research focuses on the intersection of media and mental health among young adults and adolescents. Most recently, his work has begun to advocate for a shift in social media effects research towards studying social media within the bounds of a personal social media use framework.
A Personal Social Media Use Framework
The introduction of new platforms, and a continual stream of in-app updates, has made the commercial social media landscape extremely hard to study over the last two decades. For instance, today's rapidly changing, multi-platform social media reality makes addressing questions of for whom, under what conditions, and by what means social media influences things, like adolescents' mental health, difficult. Everyone's social media environment is also becoming increasingly unique (e.g., advanced settings, personalized algorithms), making matters more complex.
In Michael's view, the increasing diversification of the commercial social media landscape provides novel opportunities to uncover how social media design may affect youth health. Specifically, he finds value in mapping out common design patterns in commercial "social media" platforms and their health correlates. These data should help researchers advance a more robust foundation for social media effects research over time—especially when considering how these technological components come to exist as aspects of users' unique social media environments. Such an approach would help researchers link findings to technical variables—representative of parts of social media—that both iterate and generalize across platforms as the commercial social media landscape continues to change and evolve (Cingel, Carter, & Taylor, 2022). After all, social media will look different tomorrow.
More About Dr. Carter
Michael received his Ph.D. in Communication from the University of California, Davis (UC Davis) in 2022. He also holds a bachelor's degree in Communication from UC Davis (2017).