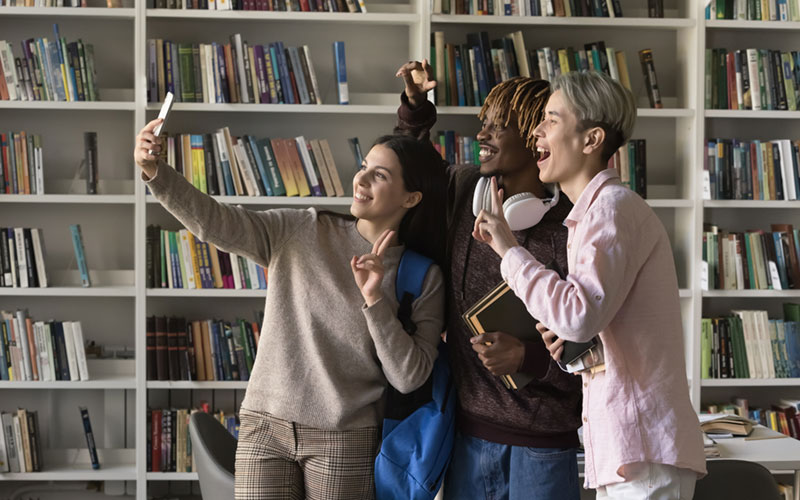 Announcing a collaboration with the Youth, Media, & Wellbeing Research Lab at Wellesley College
We are excited to announce the Adolescent Media Project (AMP), a collaborative study with Dr. Linda Charmaraman and the Youth, Media, & Wellbeing (YMW) Research Lab at Wellesley College! This study explores the contexts and characteristics of adolescents' online social interactions and how those interactions are associated with mental health and wellbeing.
This study builds upon Dr. Charmaraman and the YMW Lab's longitudinal NIH-funded study assessing potentially risky and resilient social technology behaviors as well as how individual and family demographics and peer environments may alter one's susceptibility to the positive and negative impacts of online interactions.
In AMP, we use Ecological Momentary Assessment (EMA), a research tool that helps us survey participants in real time. Rather than relying on participants to recall all the media they used throughout the day, EMA surveys ping participants throughout the day to capture their in-the-moment experiences of media use. We are also using passive sensing and daily-use screenshots to see how long participants are spending on commonly used apps and social media platforms daily.
These dynamic, innovative methods will help us understand the contexts participants are using media in, the characteristics of that use (e.g., who they are talking to, what they are doing), and their associations with indicators of mental wellbeing. Further, these methods will offer a more accurate reflection of individuals' total daily media use.  Findings will be applicable to intervention strategies for encouraging online behaviors that support positive mental health and mitigate negative outcomes.
We look forward to sharing our findings!
Please note: this study is utilizing a specific population of participants and not open to general enrollment.