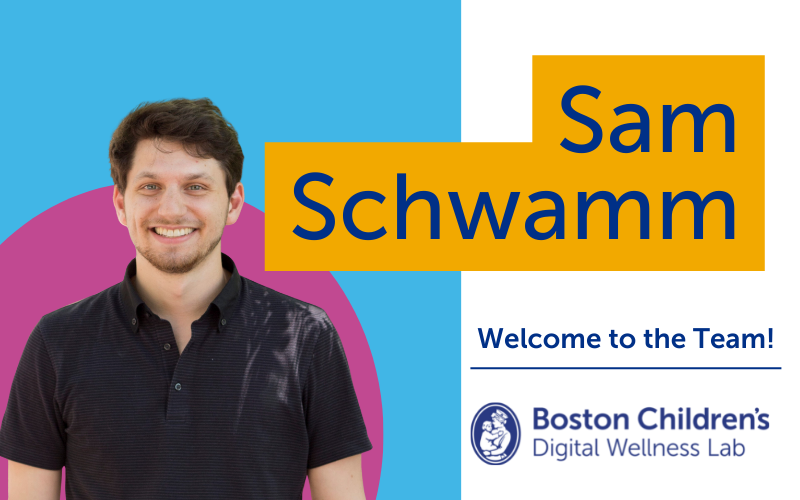 Meet our graduate research intern, Sam Schwamm! Sam is a second-year Master's student in the Eliot-Pearson Child Study and Human Development program at Tufts University. He joined the Digital Wellness Lab in September and will be with us for the 2022-2023 school year. As an intern at the Lab, Sam provides support on multiple Lab projects, assisting in data collection, management, and analysis. His academic and professional interests center on the relationship between interactive media (especially video games) and positive youth development.
Before pursuing his Master's degree at Tufts, Sam received a B.A. in Cognitive Science from Vassar College in 2016 and went on to work for several years in the field of user-experience and user-interface design. In 2021, he completed a year of service with AmeriCorps, partnering with the non-profit organization Playworks to create a safe and healthy environment for play at a low-income elementary school. Sam has also worked with children of all ages across a variety of educational settings, including volunteer literacy education, an elementary afterschool program, and a Reggio-inspired preschool. At Tufts, he has conducted research with the DevTech Research Group and Children's Television Project to explore the impact of computer science education and mass media on young people's cognitive and psychosocial development.
Outside of school, Sam enjoys trying new recipes, immersing himself in tabletop and video game worlds, reading science fiction and fantasy novels, discovering new music, watching thought-provoking movies, exploring the Cambridge/Somerville area, and spending quality time with family and close friends.