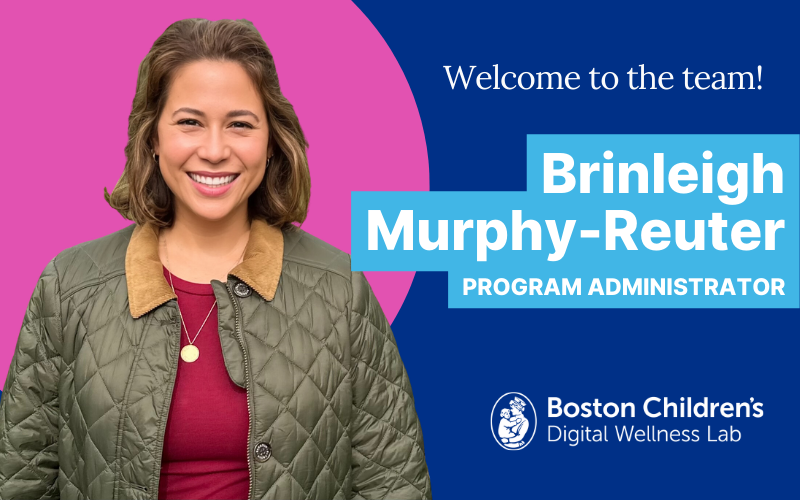 We're excited to welcome Brinleigh Murphy-Reuter to the Digital Wellness Lab as our new Program Administrator and thought we'd let her introduce herself in her own words. So without further ado, meet Brinleigh!
I can't express how thrilled I am to be at the Digital Wellness Lab. After eight years in the technology industry and some time in children's media before that, I'm looking forward to a shift into the research side of the interactive media ecosystem. I've always been passionate about the intersection of technology and human development, and in my role as a Program Administrator, I'll be able to support the Lab's special projects, supporter relationships, and translational efforts to further the important work we're doing here. In these capacities, I hope to get the opportunity to work with our industry supporters to pursue thoughtful questions that drive change across the products and platforms youth are using on a daily basis.
In addition to my work with the Lab, I'm pursuing a Master's Degree in Education in Learning, Design, Innovation, and Technology from the Harvard Graduate School of Education, where I'm focusing my studies on Early Childhood and digital wellness. My interest lies in how youth and adolescent identity development is influenced by cultural and societal messaging touchpoints and the important role interactive media plays in how we grow into unique individuals in a constantly connected world.
As a mother of two young children, I have a personal understanding of the challenges and opportunities that come with raising children in the digital age. I look forward to using my education, research opportunities, and cross-industry work to inspire design and product development decisions that advance opportunity and healthy growth in kids. I believe that technology can be a powerful force for good, and I am committed to using my skills and experience to help make the digital world a safe and positive place for all children.