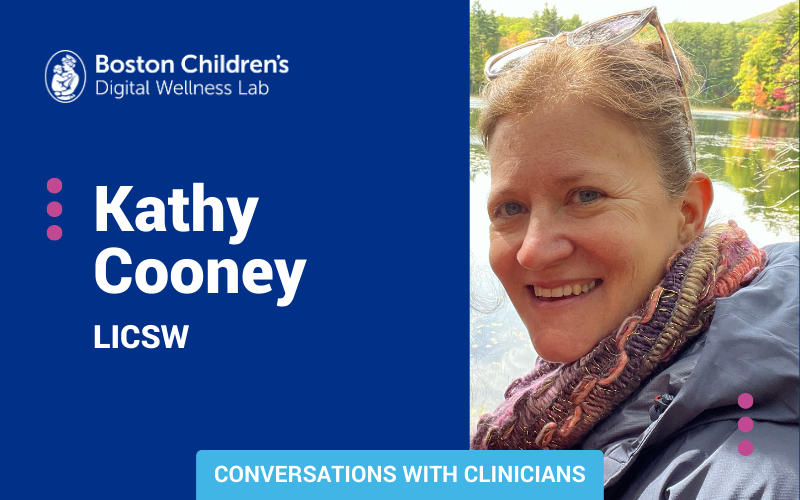 Earlier this year we welcomed Kathy Cooney, LICSW to the Digital Wellness Lab and Clinic for Interactive Media and Internet Disorders (CIMAID) team here at Boston Children's Hospital. Kathy joined us after 15 years in Rhode Island, providing mental health care integrated into the care for kids with chronic illness, particularly Cystic Fibrosis and Type I Diabetes.
In her role at CIMAID, Kathy provides individual and family therapy for young people and their parents to address underlying drivers of their problematic interactive media use (PIMU) while developing new, healthier behaviors around their approach to media and technology. And this doesn't apply just to CIMAID patients! Kathy also works with parents and caregivers to support their mindset shifts from one of policing media and technology use to one of being a support and guardrail as their children and teens develop greater self-regulation and autonomy.
Kathy has a lot of experience working with teens and their families to address mental health challenges, such as anxiety and depression, and to build new thought processes and behaviors to support their long-term emotional and physical wellness. She suggests the following to families who are struggling with managing media and technology use for themselves and their children:
Consider the age and developmental level of your child. Pre-adolescent children may require more coaching and guidelines than young adults, but every child is different and develops at a different rate.
Be patient. Eventually, your child will grow up to be an adult who has to manage their digital world independently. As with other areas of developing independence, they have to move through a process. Along the way, they will make mistakes and will need support in picking up the pieces and learning from the experience.
Be consistent in how you apply expectations about digital media and technology use. Kids of any age have a difficult time when the rules suddenly change without notice or reason.
Modeling good digital behaviors is incredibly important. Young people learn their habits from what they see the people around them doing before they reach their teens. They are paying attention to how much you are using devices.
Want to learn more about CIMAID and the work that Kathy and colleagues do to address PIMU? You can find out more here. To learn more about Kathy and get her advice on how families can promote digital wellness.