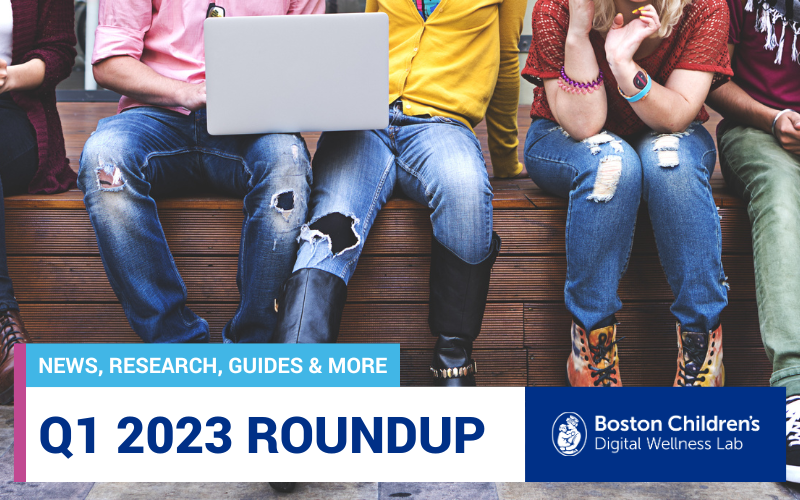 We've rounded up some notable articles, videos, and podcasts from the first three months of 2023 to provide an overview of some recent findings, recommendations, and trends concerning young people's digital media use. The following content, featuring members of the Boston Children's Hospital team, provides parents and other caregivers with advice and strategies for helping their children stay safe and healthy online.
---
Dr. David Bickham was interviewed by Yasmin Amer on NPR's WBUR Radio Boston, where he spoke about the positive and negative impacts of social media on young people.
"We know that social connections are a major protective factor against mental health problems. And that can translate to the digital space," Dr. Bickham explains. "It's really a way to connect and relate to each other. On the other hand it's important to think about the extremes. There are extreme experiences that we as adults call cyberbullying. We know that going through that is associated with many problematic outcomes, including suicidal ideation. There can be significant negative impacts and there's the potential for positive connection as well."
Dr. Bickham dove into motivations for technology companies to do good while doing well, advice for families seeking to raise digitally balanced children, and the research we do at the Lab on problematic interactive media use (PIMU). Listen to the full interview.
---
Dr. Erica Lee, our colleague at Boston Children's Hospital, was featured on the mental health segment of WCVB News Center 5 to discuss younger children's social media use.
Dr. Lee says, "The Surgeon General's recommendation [to delay social media use until mid-to-late teen years] is based on the science, which shows us that frequent social media use and screen time can actually change the way that kids' brains work, making them more sensitive to things like social interaction."
We know from our research at the Lab that building online skills and engaging with media alongside young people are key actions to ensure kids' long term online wellness.
Watch the video to learn more about how families can support their kids' healthy technology and media use through early and ongoing open conversations.
---
Dr. Michael Rich and Dr. Keneisha Sinclair-McBride both recently sat down with Dr. Sanjay Gupta for his Chasing Life podcast on CNN. In this season, Dr. Gupta is diving into questions about the effects of screen time on kids' health.
Dr. Rich and Dr. Gupta discussed approaches to social media and interactive technology that treat these innovations like power tools. "We just have to help kids learn to use [these tools], not in fear, not [just by saying] stay safe, because we don't teach driving a car by saying, don't hit that tree, don't run over pedestrians. We teach them to drive a car and in the process they learn to be safe. I think that we need to approach it not out of fear, but out of a sense of mastery of this powerful tool." Listen to their full conversation..
Dr. Sinclair-McBride and Dr. Gupta explored what she calls "the selfie effect," whereby social media users scroll through innumerable photos of others that have been perfected through filters and Photoshop, leading the viewer to feel that they don't measure up in comparison. "But now you've got the [access to these images] in your phone and it's always there. It just it never, never really ends. And I think that that accessibility is what feels different. We've always been comparing ourselves. None of these things are new, but the accessibility of it all feels very different." Listen to their full conversation.
---
The Lab conducts Digital Wellness Pulse Surveys multiple times a year to help us better understand kids' and parents' perspectives on "hot button" topics related to technology and interactive media.
In our latest survey, Adolescent Media Use: Mediation and Online Safety Features, we asked 1,502 adolescents between the ages of 13 and 17 about their general media use and its impact on their well-being, how they think about rules and guidance from their parents and caregivers, and how they utilize the safety tools and features provided by online platforms and apps.
Learn more about what we asked, what we found, and our key takeaways, and download the full report.
---
Dr. Rich connected with Dr. Jennifer Arnold, a colleague at Boston Children's Hospital, to discuss practical advice and guidance for parents and other caregivers wondering and worrying about managing their children's screen time and tech access.
Their overall message is that parents already have the parenting skills they need. They just have to take those skills and approaches into the digital space where their children spend so much time with confidence and competence. Listen to the full conversation.
---
Dr. Michael Rich discussed an uptick in teens turning to TikTok for mental health advice on a segment of Fox26 Houston. Dr. Rich shared that COVID resulted in a surge of mental health issues and access to therapy became next to impossible, so teens began seeking "alternative health communities" via social media. Dr. Rich's greatest recommendation to caregivers is to have open communication and share their children's digital space, instead of trying to forbid them from using social media platforms. Watch the full interview.