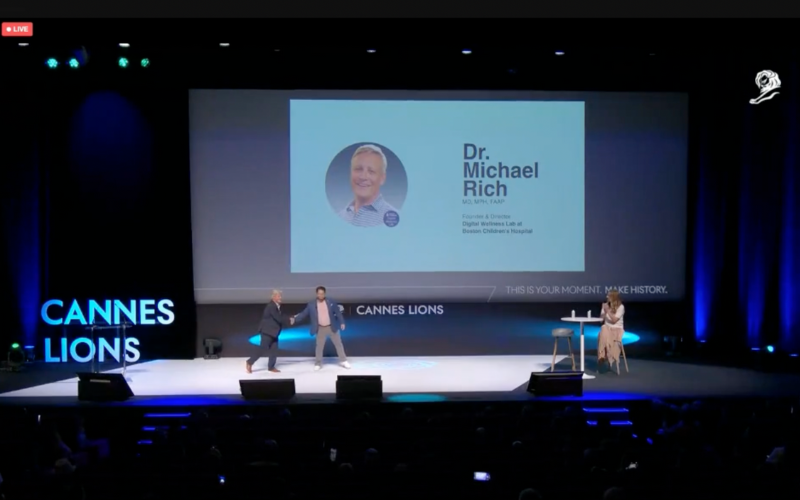 We are proud of our efforts to create a healthier digital ecosystem for kids and the last few months have been especially rewarding! We have been out sharing insights from our research with everyone from NPR to People Magazine; we were cited in the Surgeon General's Advisory on Social Media and Youth Mental Health; we launched our Inspired Internet Pledge for tech and media companies to make the internet a healthier place, with Pinterest as the founding signatory; we wrapped up our inaugural Student Advisory Council; and a whole lot more.
We've rounded up notable articles, videos, and podcasts from this past quarter — many of which include strategies and tips for keeping young people safe and healthy online. Read on to learn more!
---
Since the U.S. Surgeon General's Advisory on Social Media and Youth Mental Health was released in May, many people have reached out to ask us what we think.
At the Lab, we know from our research and clinical experience that interactive media offer an enormous opportunity for positive experiences for young people, but without intentional skill-building, youth-centered design, and caring adult monitoring and modeling, interactive media can amplify existing mental health challenges and create the conditions for negative experiences.
We celebrate Surgeon General Dr. Vivek H. Murthy's choice to highlight that the responsibility for supporting a more positive, healthy, productive digital ecosystem for young people is shared by all stakeholders, including technology companies, educators, policymakers, researchers, and families; and his offering of research-based, action-oriented guidance to each of these groups. We also applaud Dr. Murthy's focus on the need for critical digital skills-building within academic standards and for greater funding and support of independent research on the effects of social media on young people's mental health.
Our work is based on the belief that, together, we can create a world in which our kids can grow up healthy, smart, and kind by taking action based on scientific evidence, creating space for honest and productive conversations, and helping our children learn how to take agency over how they interact with the world, both physical and digital.
This advisory is evidence of the importance of our work, and we look forward to being a part of the continuing conversation and the collective effort to support a healthy digital ecosystem for all.
---
Elevating youth voices and learning from their experiences is essential to understanding and promoting positive digital media experiences for young people.
That's why the Lab convened the inaugural Student Advisory Council in October 2022. This diverse group of ten high school students from around the country met monthly to learn about the Lab's work, share their experiences with digital media, and contribute their guidance and interpretation to the Lab's research projects.
To cap off the experience in May, Council members presented to an audience of 40 tech, media, healthcare, and education leaders. Each of the three groups of students presented on a topic that was important to them — ranging from representation and misinformation on social media to regulation of screen time on TikTok. Learn more about the 2022-2023 Student Advisory Council and see the results of their final projects. (We will be inviting applicants for our 2023-2024 Council later this summer!)
---
Children are the center of their parent's universe so it's only natural that they want to share their pride and joy with the rest of the world. But have you ever wondered what the consequences of "sharenting" may be for a child's privacy and well-being?
Our Librarian and Knowledge Manager, Kaitlin Allair, shares the research behind this particular use of social media along with some recommendations in the accompanying research brief.
---
It's a decades-old tradition for parents and children to argue about video games. Despite research showing that video games don't directly cause mental health problems, we continue to worry about whether games are harming our children.
Dr. Michael Rich spoke with Yuki Noguchi on NPR's All Things Considered Podcast about how parents can address their children's gaming. He suggested that parents should take stock of their children's time spent outside of gaming and think about the myriad reasons why their kids game — socialization, stress outlets, entertainment, etc.
In response to Dr. Rich's recommendation that parents simply sit down and play video games with their kids, interviewer Yuki Noguchi played games with her 12-year-old. A lot of laughter ensued, and Yuki reported feeling reassured.
---
One June 20th at the Cannes Lions Festival, the Lab's founder and director Dr. Michael Rich took the stage with Pinterest's CEO and CMO to announce the Inspired Internet Pledge. The Pledge is a commitment by tech companies and the broader digital ecosystem to unite with the common goal of making the Internet a safer and healthier place for everyone, especially young people.
To sign on, organizations must declare they are committed to three principles and share specific ways in which they will pursue their commitment:
#1: Tune for emotional wellbeing
We commit to understanding which actions and content correlate with well-being outcomes on our platform. We will use this to inform how we build and evolve products and services that support healthier experiences on and offline.
#2: Listen to and act on insights from people who have experienced harm online
We commit to listening to and learning from those who have experienced harm online and the experts who support these communities to inform the evolution of our policies and product.
#3: Share lessons collaboratively across the tech industry
We commit to sharing best practices, key research findings, and creative solutions across the industry to make the internet healthier for everyone—especially young people.
If your company would like to sign onto The Inspired Internet Pledge, please email our Administrative Director, Cori Stott, at dwl@childrens.harvard.edu.
---
To check out what else we've been up to, check out our latest blog posts and news. You can learn more about our work and how we create impact here.