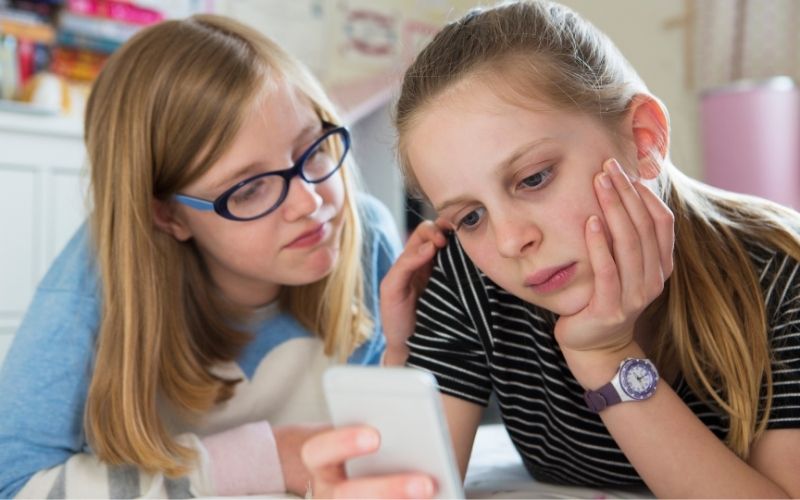 What is cyberbullying?
Cyberbullying occurs when someone repeatedly threatens, harasses, or humiliates another person using interactive technology. This behavior can happen publicly or privately.
Cyberbullying can often take the form of spreading rumors, hurtful name-calling, sending unwanted explicit images, physical threats, harassment, doxing, and "revenge porn".
Bullying and cyberbullying behaviors are intentional, involve an imbalance of power, and happen repeatedly. They are not one-time events, social media posts that might offend others, or disagreements that result from misunderstandings.
Common modes of cyberbullying include email, texting, instant messaging, social media, video games, and direct messaging through other apps.
What is the difference between cyberbullying and bullying?
Cyberbullying is a form of bullying. Its hallmarks include:
What is the difference between bullies, victims, and bystanders?
Bullies: Those who engage in repeated harmful behaviors targeting those they see as vulnerable or less powerful.
Victims: Those who are harmed by others (in this case, bullies or cyberbullies)
Bystanders: Those who are not involved in the bullying but who see it happening.
Research shows that many factors can influence whether someone will or will not step in when they see someone being cyberbullied, but having empathy and a school environment where they feel cyberbullying is taken seriously can make a difference for defending and reporting. Some bystanders might engage in negative behaviors, such as by forwarding harmful content, taking and sharing screenshots, or adding comments to hurtful online threads. These behaviors spread the message to a wider audience, potentially increasing psychological harm to the victim. In this case, the bystander becomes a bully.
How common is cyberbullying?
Nearly 100% of teens report having access to a smartphone or home computer, and nearly half of teens report that they are online "almost constantly". In the United States, about 16% of high school students report being cyberbullied in 2019; sadly, students identifying as LGBTQ reported a much higher rate of online bullying; almost 27% of students identifying as gay, lesbian, or bisexual reported cyberbullying. A survey from 2022 found that 46% of U.S teens reported ever experiencing cyberbullying behaviors which included being called offensive names or having rumors spread about them online.
Because the bullying occurs on digital devices and accounts, it can be particularly harmful to the reputations of the bully and the victim and can be more persistent and permanent and harder to notice than more traditional in-person forms of bullying.
What are the possible effects of cyberbullying?
Traditional bullying and cyberbullying are often closely related: most victims who are cyberbullied also report being bullied offline. The two types of bullying can both have negative effects, the two combined can have a particularly negative impact on the victims.
Cyberbullying can negatively affect the mental and physical health of victims and the bullies themselves. Cyberbullying has been connected with lowered self-esteem, suicidal ideation, loneliness, anxiety, depression, and physical symptoms. Bullying may also have negative effects on the victim's school success, like decreasing academic performance, engagement, and attendance.
Cyberbullying hurts not only the victim, but also the bully. Bullies are more likely to engage in substance use and abuse and early sexual activity, have criminal records in adulthood, be abusive toward family and romantic partners, and drop out of school.
What are the warning signs of cyberbullying?
Children and especially teens may try to hide the bullying from their parents and other adult figures or not report the problem out of embarrassment, a fear that nothing will happen, concern about retaliation from the bully, or even from a fear of losing their internet access or device.
Educators and parents can look for warning signs of cyberbullying in school and at home:
Victims of cyberbullying may experience an increase in issues within their relationships, reporting feeling lonely, or getting upset more often over issues with friends and others at school.
Young people experiencing cyberbullying may become withdrawn, seem down or depressed, or lose interest in people and activities they typically enjoy.
They may show extreme emotional responses to what is happening on their device, or angrily put their device aside without explanation. They may try to hide the device or what's on the screen from adults.
Cyberbullied children may visit the school nurse more often, with complaints about emotional distress or physical ailments with an unknown cause.
They may try to avoid school or start showing decreases in academic performance.
They may become jumpy, nervous, or angry when they receive a notification of a new text message or social media post.
Cyberbullying victims may switch their social media accounts frequently.
How can I prevent cyberbullying?
Keep an open line of communication with your child.
When they get home from school, ask what happened that day that made them happy, proud, sad, and mad.
If there was some online drama, offer to review it with them, not to be nosy, but to support and protect them.
Tell them about similar experiences you had as a teen and how you dealt with them.
Ask your child what they like to do online, and why.
By standing up for those who are bullied in the physical or online world, they are making those worlds safer and kinder for themselves and for others.
Include the reality of cyberbullying in your family's shared media use agreement.
A shared media use agreement outlines how everyone in the household is expected to behave with devices, games, and social media, including:
How your child is expected to  interact online with respect for themselves and others
What consequences will be incurred when these expectations are not met.
How your child can bring you questions, concerns, or fears that arise from their own or others' experiences online.
Reassure your child that you will not take away their phone or device if they report experiencing or witnessing cyberbullying.
This will help them feel safe to tell you right away if they or someone they know is being victimized online.
Follow or friend your child online so you can see what is happening on their social media feeds.
Engage in social media use together.
Co-view videos, game together, and ask to see their screens and share your own. Ask questions about what they are doing, what they like about it, and point out things you find interesting, confusing, or concerning.
Help your child to set up privacy and security settings.
While privacy and security settings won't necessarily block all negative content, they can help to protect your child from negative behaviors online.
You can block the bully and access additional supports through apps. If your child was doing the bullying, talk to them about it. Ask what was happening for them at this time, how it felt, and what they think they could do to make the situation better for the victim.
What do I do if I suspect that my child is being cyberbullied?
If you suspect that your child is being cyberbullied, It's important to address your concerns with them in a way that helps them to speak openly.
Ask your child about their experiences.
"I saw a piece on the news yesterday about cyberbullying. Is that something you've experienced?"
"Do you know anyone who has been bullied or attacked by haters online?"
"I noticed that you seem pretty angry at your phone lately. Can we talk about what's going on?"
Reassure your child that you love and support them and that you want to help them to feel safe and secure at school and online.
"I know it might make you uncomfortable to have me asking these questions, but I'm asking because I love you and I want to help you feel safe."
"Telling me about this was really brave. I want to make sure we find ways to help that feel right for you. What concerns do you have about how we address this?"
"Is there an adult at school who you trust? Let's figure out how to be sure you can talk to him when you need to, so you can feel safe at school."
Empower your child.
"You have a right to be treated with decency and kindness online, just like in regular life."
"You haven't done anything to deserve this treatment."
"There are things we can do to help this behavior stop. I want to work with you to decide on a solution together."
"This happens to a lot of people – more than half of kids your age report being cyberbullied."
Take actions to make your child safer.
"I know it feels like a big step, but let's go into your account and block the people who are hurting you so they can't send you any more messages."
"I know how tempting it is to write back, but that will just make your bully feel more powerful. How about you text it to me instead? I promise you won't get in trouble for the words you use – it's important to be able to get those feelings out."
Engage external supports.
"That social media company can help us to protect you from this online. Let's go look at their support site."
"Even though it's online, I need to let your school know this is happening. I'd like you to come with me to talk to the principal, so you can be a part of the conversation with her."
"I think that we need to talk to the police about this situation, because you or someone else could be really hurt by this behavior"
You aren't alone!
There are resources available to help you in addressing cyberbullying, including: