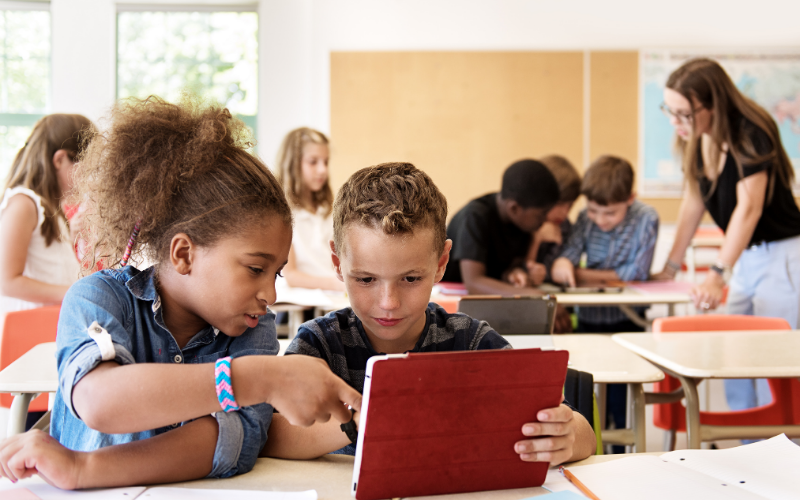 Empowering the Next Generation
Keeping kids safe in the digital world can feel like a full-time job. But it's impossible to monitor their online activity 24/7, so it's critical to help kids learn to navigate digital spaces on their own. Our latest research brief explores the importance of teaching children strong digital citizenship and media literacy skills. This quick guide combines the brief's insights with easy-to-follow tips for parents to help their kids become savvy, responsible digital citizens.
What is Digital Citizenship?
Digital citizenship has been defined as knowing how to use the internet effectively day-to-day. But this definition is too narrow and doesn't keep up with ongoing advances in technology and the ways we use it. Instead, we should think about digital citizenship as encompassing the skills children need to "fully participate academically, socially, ethically, politically, and economically in our rapidly evolving digital world," as defined in Youth and Digital Citizenship+. Three of the most compelling and useful areas that fall under that expanded definition are character education, online safety, and civic engagement — let's dive in.
Acting with Respect in a Digital World
Social-emotional learning (SEL) teaches kids important skills like empathy, self-management, and problem-solving. This type of education can be just as useful online as it is in offline, face-to-face interactions. Caregivers can help their kids experience and create positive online interactions by addressing key SEL competencies within a digital context.
Tips for Parents:
Discuss the importance of respect and empathy online. Ask kids old enough to have social media accounts to share their experiences sharing and receiving respectful, disrespectful, or hurtful content. Share your own experiences of the same and how you felt.
Talk to your child about the possible consequences of their online actions and how they can affect others. Engage in an exercise to think about how another person might feel about seeing or reading something your child has posted online. Is that how they want their actions to make others feel? What might they continue doing, or do differently, to have the effect they want to have on others?
Often, young people turn to their online communities when they are experiencing challenges in the physical world. Identify examples where others have successfully sought support online and examples where they may have compounded their challenges or harm through inappropriate or hurtful posts. Discuss how those posters may have been feeling, what they wanted to achieve by turning to their online communities, and how they could have approached that problem in a positive, respectful, and productive way.
Understanding Online Safety
Online safety is a key part of digital citizenship. It's about keeping personal information and digital devices secure and maintaining mental and physical well-being while engaging online. Teaching kids about online safety will help them confidently explore digital spaces while minimizing risks.
Tips for Parents:
Teach your child about password protection and why it's important that others can't gain access to their hardware and accounts. Trend Micro offers a brief course and conversation starters for parents to use in helping kids to learn about strong passwords, why they're important, and how to craft really good ones. We could all use a refresher!
Talk with your child about information that is okay to share with others online and information that is important to keep private, or to only a trusted, select group of known individuals. You can access a brief guide to key considerations for online privacy and then talk about what you choose to share online, with whom, and why. Create a written set of expectations for your household that describes, in detail, what you agree is okay to share and what will require parental permission before sharing.
Review community guidelines and privacy settings together. Internet Matters offers comprehensive guides to the privacy settings, controls, and blocking options provided by all of the major social media, gaming, and streaming media platforms, as well as all major smartphone providers. Walk through the settings with your child for each of their accounts to ensure they know what the platform is protecting, what they need to be extra careful about, and how they can block and report problematic behaviors.
Find a way to engage with your child regularly to discuss their experiences online. You can talk about their latest Roblox successes while playing basketball, ask about any new TikTok or Instagram Reels they've seen while driving to the mall, or open a conversation about questionable outreach from unknown folks on Discord or Twitch while eating dinner. Asking your child to help you learn how to play their favorite game, scroll videos together, or use a maps app to find a new park can be a great way to get an inside peek into their online lives and what questions or concerns they may have.
Civic Engagement and Digital Citizenship
Civic engagement is crucial to education; it prepares children to navigate the broader political and social world. UNESCO's report "Empowering Youth to Build Peace" emphasizes teaching youth to use technology and critical thinking skills to counter online extremism and radicalization, fostering peaceful interactions.
Social media activism opens doors for youth to engage in digital citizenship, offering low-barrier access to civic participation and opportunities to connect with diverse communities, learn about different cultures, and deepen civic networks. Many kids are keen on participating in political movements and activism, and parents can use this interest and their existing social media skills to engage them in digitally-enhanced citizenship.
Tips for Parents:
Help your child to be a good digital citizen and an online upstander by reporting problematic behaviors, reposting only accurate information, and sharing positive images and messages. The "Golden Rule" is effective in digital citizenship — treat others online as you would like to be treated.
The online world is rife with mis- and dis-information, and it can be difficult to decide what is accurate, exaggerated, or simply false. Learning to question information found online and engaging respectfully with different viewpoints are core skills for kids growing up in our digital age. You can teach your child to consider what a given author or poster might want them to believe and how to question statements that seem designed to engage their emotions or stir controversy. Encourage them to check those questionable statements or facts on such sites as FactCheck.org, Snopes, or PolitiFact or to look up information on reputable sites.
Help your child find and join online communities and participate in digital activism related to their interests. UNICEF provides a multi-media guide for young people and their parents about digital activism and how to engage in positive, impactful ways.
The Importance of Teaching Digital Citizenship
Digital citizenship means more than showing kids how to click and swipe. It's about enabling them to make wise decisions, foster genuine connections, and use the online world for good.
Teaching digital citizenship isn't just about keeping kids safe — it's about nurturing a sense of curiosity and understanding while grounding kids in empathy and respect for their online exchanges. This isn't a one-off lesson but an ongoing conversation throughout a child's development and a set of adaptable skills that grow with each tech innovation. Maintain an open, judgment-free communication zone to support your child's ongoing digital development, and check in with them regularly.
As we cheer on their digital exploration and champion educational initiatives, we're doing more than just preparing kids for living in the digital era — we're sparking their ability to make a positive impact.