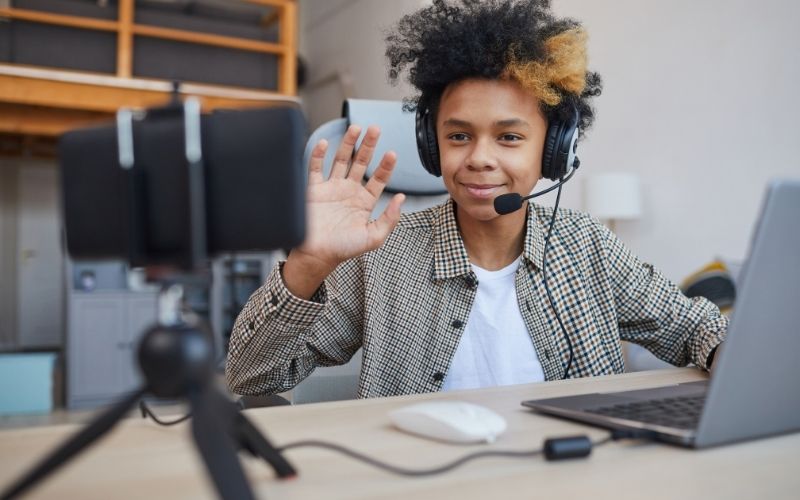 What is video game livestreaming?
Video game livestreaming is when gamers broadcast their gameplay to a public audience using online services. Many children and teens watch gamers livestream as a form of entertainment; in 2020, there were 18.6 billion hours of video gameplay watched on Twitch, where 41% of registered users are aged 16-24.
Platforms for video game livestreaming that are popular among teens include:
Twitch is a livestreaming platform where users can watch livestreams or recorded videos of gameplay. Viewers can message others via a public chat or private message. Twitch requires users to be 13 years or older, and recommends that youth between the ages of 13 and 18 years use the platform under parental supervision.
YouTube allows users to livestream from their channel, and many young people use YouTube to watch video game streaming. YouTube does not allow those under the age of 13 to livestream unless they are visibly accompanied by an adult.
Facebook offers a dedicated game streaming hub nested within Facebook. In order to have a Facebook account, users must be over the age of 13.
Discord offers text, voice, and video chat features, along with some livestreaming options for small groups. Discord requires users to be age 13 and over. While Discord is not designed to be a livestreaming service, it is often used by livestreamers as a way to interact with their viewers in an online community setting.
It is important to note that, although the above platforms require their users to be 13+ in order to create an account, all of them allow viewers of any age to watch certain gaming streams without logging into the service.
Why do kids want to stream their video game play?
Although scientific data is lacking when it comes to exactly why many children want to stream their video game play, here are several possibilities:
They watch others stream and want to be like other streamers.
They want to create and/ or be part of a community of others who share their interest and love of gaming.
They enjoy sharing their skills and knowledge with others.
Becoming an
esports
star or professional streamer has become an increasingly popular
career choice
for youth today. Similarly to pro-athletes, very few gamers reach a level where they can earn money through endorsement deals and esport competitions.
Why do kids want to watch streamed video game play?
Children and teens want to watch others play video games for a variety of reasons, including:
What are the risks of video game streaming/watching?
What are the benefits of video game streaming/watching?
Children and teens can connect with their friends and other gamers with a
shared interest
in gaming through livestreaming and/or watching others stream their play.
Children and teens can
learn
more about gaming and become better players by watching others stream their gameplay and sharing strategies.
How can I support my child streaming/watching in healthy ways?
Before allowing your child or teen to stream their video game play or watch others stream their gameplay, ask them about the following:
What games do they want to watch or stream?
What platform(s) do they want to use to watch or stream their gameplay?
Review the platform's community guidelines for streaming, including any age restrictions and recommendations for parents. Create an account with your child so that you can engage the privacy and security safeguards and understand how the platform works.
Where/when/how will they livestream their gaming and/or watch others livestream?
If livestreaming their gaming, make sure your teen has a space that protects their privacy (free of school memorabilia and other items that provide hints about their location or other private information). Your teen should also have this area set up in a way that you can monitor their livestreaming without necessarily interrupting it (such as being able to talk to them without being on screen yourself). Talk with your teen about why it's important to take these measures to mask their location and identity.
Add livestreaming expectations and rules to your family media agreement, including when they can watch, whether they can livestream their own gameplay (and the expectations for this), how they are expected to behave within the livestream environment, whether and how you will monitor, and what the consequences are for breaking these expectations.
Be sure you are involved in your teens' esport competitions, just as you would be involved in any of their sports. Check in with them regarding tournaments, and watch their matches when possible! Parental consent will be needed for all financial transactions involving potential endorsement deals, so be sure to have these conversations with your child should the opportunity for their play to be sponsored arise.