FAMILY DIGITAL WELLNESS GUIDE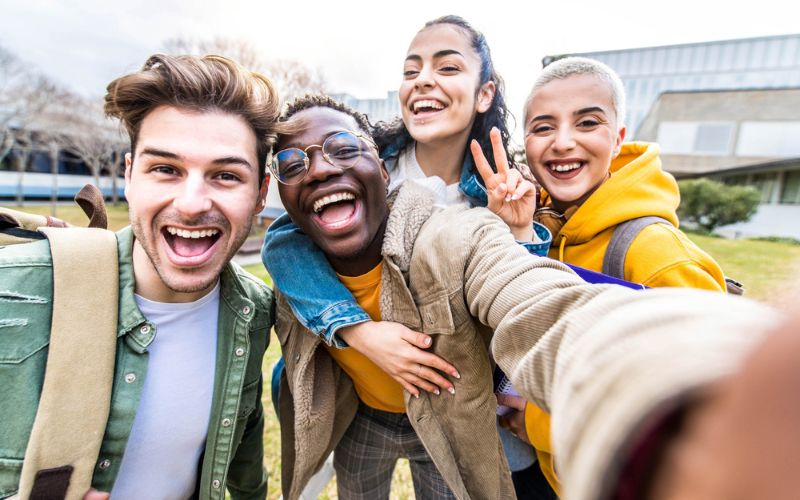 Teens (13-18) and Young Adults (19-22)
Adolescence is an active period of change finalizing the shift from childhood to adulthood. Teens are maturing physically, sexually, and cognitively while they also develop more complex and nuanced relationships with peers and seek even greater independence from primary caregivers.
Friends become the predominant connection during adolescence, offering a safe space and emotional independence from parents, teachers, and other adults. Teens form more mature friendships and romantic relationships and they begin to feel a greater need to establish their own sexual identity. Social connectedness is integral to teens' long term wellness outcomes.
Though their brains haven't yet achieved the maturity levels of adulthood, teens' brains become more capable of future thinking and logical problem solving. They are developing more complex understandings of human relationships, emotional nuance, and their own morals and values systems.
Screens and interactive media form an important part of teens' and young adults' social lives, education, and entertainment choices with teens and young adults engaged in a constant and often simultaneous interaction with the online world alongside their "real life" world. 
In 2021, teens spent an average of eight hours and thirty-nine minutes on screen use, not including time spent for school, and 62% of teens responded that they use social media every day and eighty-four percent of young adults report ever using social media. Nearly 100% of teens report having access to a smartphone or home computer, and nearly half of teens report that they are online "almost constantly". Sixty percent of teens report using computers to do their homework every day. But it's important to remember that the measure of average time includes multi-tasking time, and teens aren't necessarily spending that long looking at a screen. They might be playing video games with friends and video chatting on their phones instead of using in-game communication features, essentially squeezing multiple hours worth of entertainment media into one. 
Much of teens' social connection is happening on smartphones, which have made it increasingly easier to stay connected at all times. A recent report from Common Sense Media found that half of the teen participants were receiving 237 or more notifications a day from messages and apps. At 13, 70% of teens have their own smartphone; by 18 that number jumps to 93%. 
Although many children are using social media before they turn 13, that is the "official" age where most social media platforms allow users to create their own profiles. Research on the social, emotional, and mental health impacts of social media continues to develop — evidence is mixed on the negative and positive effects of using it and how dramatic those effects are. The effects of social media may differ for teens based on many different factors in their life. But research also shows that active parenting practices about social media and monitoring use in a way that still respects their child's autonomy may be protective, reducing mental health risks and minimizing cyberbullying effects. In one of our 2023 Pulse Survey's, over half of teens who reported having rules around their media use felt that they were just the right amount of restrictive — so teens are not opposed to rules from family.
For teens and young adults, and for girls in particular, it is important to discuss how social media can affect body image. Research has suggested that using social media and being focused on appearance-related activities, like comparing themselves to their peers or the "ideal" bodies on social media platforms, may be associated with a higher risk of depression and social anxiety. However, there is also evidence that teaching young teens in school and at home about the risks of comparing themselves to images of friends and celebrities, understanding how images might be curated or edited, and supporting self-esteem and confidence, may protect teens against the harms of social media comparison.
As teens' sexual identity becomes more established, teens and young adults may turn to the internet for information. This is particularly true for LGBTQ+ teens, who may not be provided as much information in sexual education classes. Some teens are sexting, and while this is usually consensual, girls are more likely to report that they were pressured into sending images of themself, and similarly, boys were more likely to respond that they would ask for sexual pictures from a partner. 73% of teens are exposed to porn by the time they are 17, with over half of teens reporting the first time they saw porn online was before they were 13. LGBTQ+ teens and cisgender boys were most likely to report viewing porn on purpose, but often report using it in ways that explore their sexuality – for LGBTQ+ teens in particular, using porn may be a way teens feel safe exploring their preferences for a partner when they are uncomfortable talking about it to peers or adults.
As they strike off more independently into the online world, teens and young adults need opportunities to take risks with safety nets and to rely on their caregivers and trusted adults for support and guidance.
Parents should talk with their teens often about the experiences they are having and the choices they are making online. And as with children of every age, evaluating your own media practices to ensure you are modeling media behaviors you want your teen to emulate, such as putting away devices during family meals and staying undistracted by media during family interactions, will go a long way towards helping your teen build healthy habits (see best practices below for guidance).
Ideal Use
Parents should support their teens' and young adults' media boundaries, but intervene when necessary (see best practices below for guidance) to help them stay safe and healthy online while building skills for lifelong digital wellness.
Best Practices for Digital Wellness