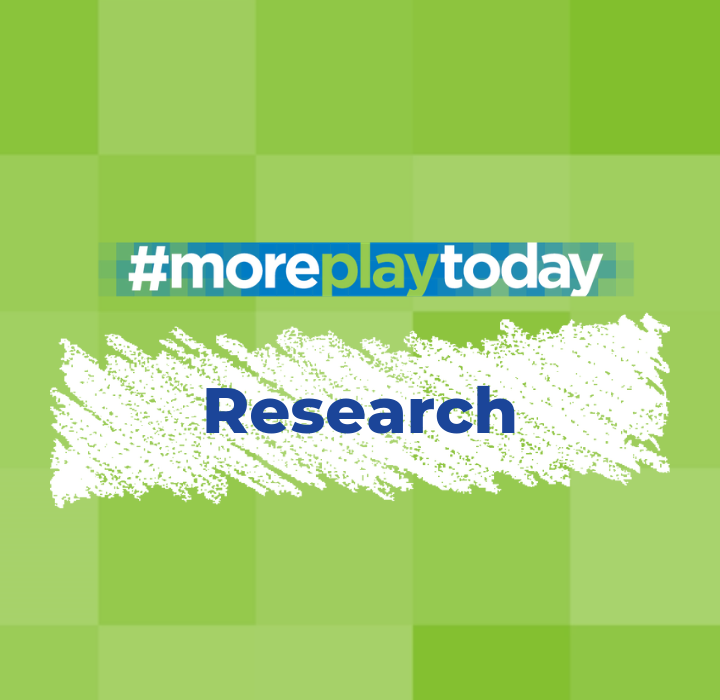 #MorePlayToday Original Research
Analysis of #MorePlayToday research is ongoing, so check back often to learn the latest! Explore some of #MorePlayToday's scientific findings below.
Screen/Play: How are children's media use and play related?
Conference: International Communication Association (ICA)
Citation: Hurwitz, L. B., Bickham, D. S., Moukalled, S., Rich, M. (May, 2018). Trade-Offs between Media Use and Play: Comparing Children's Time Use in Boston and Mexico City. Paper presented at the annual meeting of the International Communication Association, Prague, CZ.
Title: Trade-Offs between Media Use and Play: Comparing Children's Time Use in Boston and Mexico City
Abstract: Early childhood is a sensitive period of development, and it is important that children spend time in the first several years of life engaging in developmentally stimulating activities, like play and reading. Historically, there have been recurrent concerns that screen media use might displace time children could devote to more enriching activities. In the present study, we examined young children's time use in Boston (U.S.) and Mexico City (Mexico), exploring media's impact on the time children allocated to other activities and comparing patterns in time use cross-culturally. We collected and analyzed time use diary data parents provided for 198 children. In both research sites, playtime, and to a lesser extent media use, dominate children's leisure hours. In Mexico City, children invested more time in media use and chores, while in Boston, children spent more time outside and engaged in imaginative, object, physical, and board/card game play. In Boston, evidence suggested media use may have displaced time dedicated to certain types of play, while in Mexico City, play seemed to facilitate or positively co-occur with media use. These findings are interpreted in light of competing hypotheses about media's impact on the structure of children's time, and social/cultural differences between the U.S. and Mexico.
Play builds brains: What play context relates to memory, attention, and task management?
Conference: Pediatric Academic Societies (PAS)
Citation: Bickham, D. S., Moukalled, S., Rich, M., (March, 2019). The Impact of Children's Play and Media Use on Executive Function Development. Paper presented at the annual meeting of the Pediatric Academic Societies, Baltimore, MD.
Title: The Impact of Children's Play and Media Use on Executive Function Development
Abstract:
Background: American Academy of Pediatrics policy statements urge pediatricians to encourage play and discourage excessive screen media use to optimize the development of children's executive function (EF). Research has rarely examined the effects of play outside educational and childcare settings and has not tested the competing influences of play and screen media on EF in contemporary home environments using real-time assessment.
Objective: To examine longitudinal associations of play, contexts of play, and screen media use on development of children's EF.
Design/Methods: A community sample of 146 children aged 2.5 to 7.9 from New England and one of their parents participated in baseline assessment with 99 completing 1 year follow-up. At baseline, parents reported their child's play and media use in response to surveys delivered to their smartphones at 8 randomly selected times a day for 2 weeks. Surveys assessed whether the children was currently playing, with whom they were playing, who chose the play activity, and whether they were watching TV, playing video games, or using a smartphone/tablet. Before the play/media assessment and 1 year later, children's EF was measured with the McCarthy Scales of Children's Abilities Verbal Memory test (word recall task), the Heads Toes Knees Shoulders EF test, and parent report of children's attention problems. Longitudinal linear regression models tested associations between frequency and type of play (number and characteristics of play events) at baseline and EF 1 year later, controlling for demographics and child's baseline EF.
Results: Baseline frequency of play (β = .203, p = 0.06), child-selected play (β = .202, p = 0.06), and play with an adult family member (β = .223, p = .01) predicted increases in verbal memory 1 year later. No individual type of media use was related to subsequent EF, but the number of surveys where no media use was reported was associated with increased memory scores (β = .369, p = .01). Neither play nor media use was related to other measures of executive functioning (see Table).
Conclusion: The more frequently children played, selected their play activity, played with an adult family member, and were not using media, the more their memory skills increased over 1 year. Pediatricians should advise parents to encourage child-selected and adult-child play and discourage media use to support increases in memory.
Real play and child development: Innovative measures reveal important relationships
Conference: Society for Research in Child Development (SRCD)
Citation: Bickham, D. S., Moukalled, S., Rich, M., (April, 2019). Measuring Children's Modern Play Experiences: Examining Links between Play and Development in the Digital Age. In D. Bickham (Chair). Play Today: Investigating and Encouraging Play in the Contemporary Developmental Environment. Paper presented at the biennial meeting of the Society for Research on Child Development, Baltimore, MD.
Title: Measuring Children's Modern Play Experiences: Examining Links between Play and Development in the Digital Age
Abstract: Through play young children acquire and develop key cognitive, social, and school readiness skills (Golinkoff, Hirsh-Pasek, & Singer, 2006). Evidence for this learning comes primarily from researching play in formalized learning settings (e.g. classrooms and preschools). With curricular changes reducing in-school play opportunities (Miller & Almon, 2009), out-of-school, free-time play may be an increasingly important developmental opportunity. The limited research studies that have overcome the methodological challenges of assessing free-time play have found that different types of play are associated with different outcomes. Active physical play, for example, was linked with higher adaptive skills while playing with commercial toys was linked with more creativity (Lehrer, Petrakos, & Venkatesh, 2014). Furthermore, digital play may be replacing traditional play during children's free-time (Hofferth, 2009). Interactive digital devices, however, have the capacity to deliver simulations of traditional play experiences requiring research that examines the differing effects of play types to consider them a category of play. Finally, children's socio-cultural setting may shape the types of play in which they engage as well as the outcomes of this play. The current study uses parent report and ecological momentary sampling to assess different types of children's free-time play and links these activities to social and cognitive skills. In a study of children ages 2.5 to 7.11 in the US (n = 146) and Mexico (n = 181), parents completed a self-report questionnaire that assessed their children's school readiness, behavior problems, and positive social behaviors as well as the regularity at which they participated in different types of play (including interactive screen media). Children completed observational measures of their short term memory, executive functioning, and receptive vocabulary. For two weeks, parents received 8 surveys a day delivered at random times on their smartphone in which they were asked to categorize their child's play at the moment of the survey signal. Analyses revealed some similarities between the two countries being studied but also considerable differences. Frequency of multiple types of play was associated with higher levels of school readiness with associations detected for number play, letter play, and board/card game play in both countries. In the US, cognitive outcomes such as school readiness and memory were more regularly related to different types of play while in Mexico, play was more consistently related to social behaviors including fewer behavior problems and more positive behaviors. Digital play was rarely and inconsistently related to outcomes. In the US, smartphone/tablet use was linked to lower vocabulary but computer use was associated with lower levels of behavior problems. Overall, while the frequency of children's play predicted positive developmental outcomes, the specifics of the play type and outcome typically differed between the two cultural contexts. These results support other work indicating associations between certain types of play and positive outcomes, but they emphasize the need to consider the potential impact of culture on these relationships. Additionally, the findings indicate that if digital play replaces traditional play, children may be trading off a developmentally positive activity for a more neutral one.