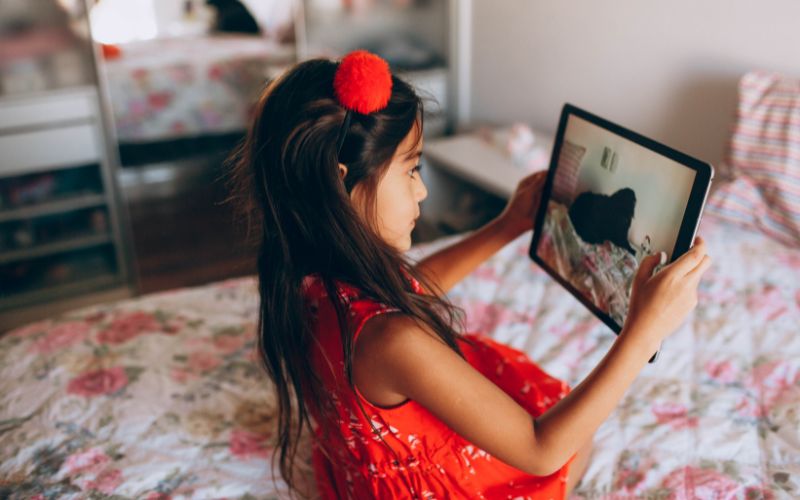 Digital media have become deeply embedded in our kids' lives, with screen time often beginning during toddlerhood. These technologies can provide cognitive, social, and emotional benefits, such as expanded learning opportunities, global connections, and outlets for self-expression. Research indicates that screen media that are intentionally designed to support kids' development can help them do better in school, learn new skills, and become better readers. And it's not just about learning — playing video games and other online activities can also help kids build friendships and meaningful connections with others. However, potential risks and negative effects, such as social isolation, overuse, and mental health issues must also be considered and addressed.
As kids grow up immersed in digital media, parents and other caregivers play a crucial role in guiding their digital media use and creating a supportive environment for meaningful technology interactions. Here are the Digital Wellness Lab's top five strategies to help parents support their kids' learning to set healthy boundaries and balance online and offline time.
1. Get Involved: Co-Playing and Co-Viewing
If parents want a real view of how their kids spend their time online, they need to participate actively in their kids' digital experiences. By engaging in digital media activities alongside kids, parents can help them make better choices about the content they consume and encourage meaningful discussions about themes, messages, and values.
One effective strategy is co-viewing and co-playing with kids, which fosters bonding and shared enjoyment while also providing an opportunity for guidance and supervision. Co-playing can also help identify potential risks, such as inappropriate content or interactions, and allow parents to address them promptly and effectively. By sitting with children and picking up a video game controller or scrolling through online videos together, parents can find shared interests, encourage more open communication, and enable their child to be the expert.
2. Model Good Digital Habits
It's never too early to model healthy, balanced media and technology habits for children. When adults show kids responsible digital behavior, it sets a strong example for them to follow. Parents can help their kids find balance and purpose in their digital lives by being mindful of their own screen use, focusing on meaningful online activities, and being good digital citizens. Openly discussing their digital habits and the reasons behind them can further emphasize the importance of responsible use, ensuring kids understand the benefits of adopting such practices.
Besides being digital role models, parents can highlight the importance of offline activities by participating with their kids. Whether it's getting active, exploring creative pursuits, or simply enjoying quality time together without screens, these activities will show them the value of a balanced lifestyle that includes both digital and real-world experiences.
3. Use Creative Apps
Purposeful and meaningful digital media activities can help establish supportive habits and boundaries for kids. Parents can ensure their children's exposure to digital media enriches their learning experience by encouraging them to explore creative apps and websites.
Online creative outlets can inspire and nurture kids' artistic and imaginative abilities. Platforms that support digital art, music, and writing enable young people to explore various forms of self-expression, cultivate their talents, and share their creations with a broader audience. Encouraging children to engage with these creative tools can foster emotional well-being and personal growth and help them develop essential skills like problem-solving, communication, and collaboration.
4. Create Opportunities for More Mindful Screen Engagement
Children develop at different rates, and all families have different values and routines. This can make one-size-fits-all rules about screen time and content difficult to determine. However, families can encourage their children to be mindful of what they are doing online and why.
Working together to create a shared Family Media Plan is one way for families to encourage critical thinking about the types of media they want to consume and the devices they want to use. It is an excellent way to ensure that everyone in the household is on the same page regarding digital media use. Families can revise the plan at regular intervals as children become more media literate and families begin to understand more about the positive and negative effects of technology and media for themselves and their children.
Once guidelines are agreed upon, it's important for parents and caregivers to follow them, too. In our recent Pulse Survey, just 37% of adolescents reported their parents followed their own technology rules, which can impact how kids feel about the rules (and whether they choose to follow them).
Families can also create screen-free zones and set screen-free times to promote balance. Designate areas like bedrooms and dining rooms as spaces where screens are off-limits and identify times, such as mealtime or homework sessions, when screens are to be turned off. This approach encourages family connection, fosters healthy sleep habits, and makes mealtime an opportunity for meaningful conversation.
5. Make Time for Breaks and Offline Fun
Encouraging regular breaks from screens and getting kids involved in offline activities is important for their social, emotional, and cognitive development. These breaks help them enjoy a balanced life with digital and real-world experiences. Encourage offline hobbies like reading, drawing, or playing musical instruments. Get kids moving with sports, dancing, or outdoor play—all great for their physical and mental health.
Parents should also give kids plenty of opportunities to socialize face-to-face, building essential social skills and strong friendships. By balancing screen time with offline activities, parents can guide their kids to better digital media habits.
Moving Forward
As technology becomes more integrated into our daily lives, setting digital media boundaries and guidelines for kids is critical. As parents and educators, we are responsible for guiding children's digital media use and creating a supportive environment that balances digital and IRL ("in real life") experiences.
By implementing strategies like these, parents can help kids develop healthy digital media habits and navigate the digital landscape safely and responsibly. With intentional and purposeful effort, we can all help children have a well-rounded and enriching experience with digital media. We encourage parents to use these strategies to support their children's healthy digital media habits.
We invite parents and caregivers to explore our Family Digital Wellness Guide for more resources, tools, and support to help them navigate their kids' digital media use.