FAMILY DIGITAL WELLNESS GUIDE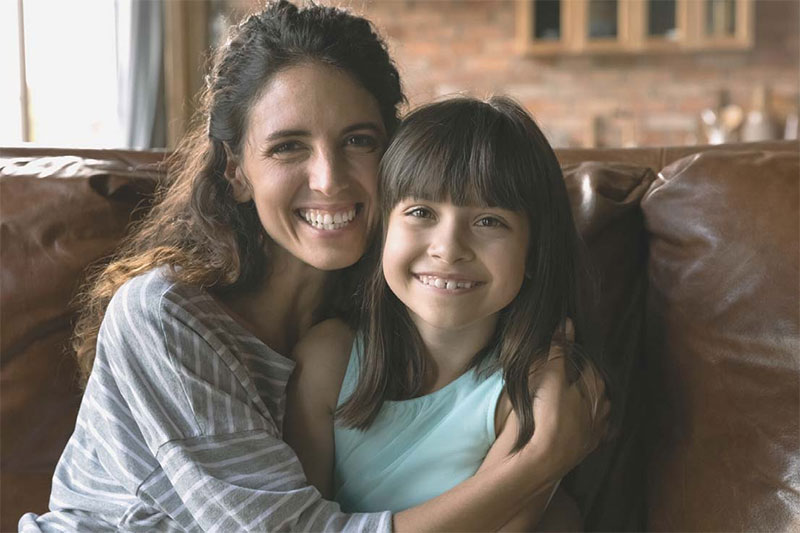 As their school years begin, children become physically stronger, more independent, and much more aware of themselves and their bodies.
School age children begin to form more complex relationships with peers.They may test boundaries, break rules, and try on new identities as they seek acceptance by the group. Friends become increasingly important for fun as well as for social development.
Physically, gradeschoolers undergo rapid periods of change; there is typically wide variation in height and weight between children of the same age. They need at least one hour of physical activity daily and the development of healthy eating and exercise habits is particularly important.
Gradeschool children begin to develop more mature attention spans, with the ability to focus on a single task for up to an hour by age 9. They can begin to make more complex decisions, reflect and problem-solve, and contribute meaningfully to their family and peer groups. Children at this age begin to develop self-regulation and self-awareness, understanding themselves in relation to others and managing their emotions.
At this age, children can begin to more productively use screen media. Interactive and engaged co-viewing with parents and peers can offer opportunities for relationship-building and learning. Developmentally optimal screen media can support improved academic performance, enriched knowledge, and increased literacy. Gradeschool children can develop meaningful relationships through video games and other interactive forms of online play.
We Recommend…
For children 6-9, we recommend that parents and caregivers work with their child to determine the devices they use, the content they consume, and the people with whom they connect online. Screens should be used in moderation, with purpose, and in balance with time spent on a variety of non-screen activities.
Around ages 10-12 (also known as the "tween" years), puberty has begun for some, but not for others. With the increased hormones of early adolescence, children this age begin to experience notable physical changes with increased variability in height among kids of the same age. They are all excruciatingly self-conscious.
As their brains become more capable of logical and abstract thought, children this age enjoy practical tasks and problem-solving. In the United States, children often transition from elementary to middle school during the tween years. This transition brings new independence, expectations, supports, and structures that can differ markedly from what children experienced in elementary school.
As their brains have matured, tweens are able to tackle higher-level schoolwork just as they spend more energy on developing peer groups and social structures. Being perceived as popular and cool takes on great importance.
Social relationships continue to increase in importance as the child seeks greater independence, with non-romantic friendships often dominating. Children at this age may seek to dress, speak, and act like close peers or idolized celebrities.
While testing the limits of their independence, tweens need boundaries and the safety of their relationships with parents and other caregivers. At this age, children can begin to use media more independently, but still need the mentorship and oversight of adults.
We Recommend…
For pre-adolescent "tweens," we recommend that families work together to make decisions about using digital media that are in the best interest of each child's balance and wellness. Parents should continue to monitor and guide their tweens' use of screens and to set clear expectations and boundaries.
Best Practices for
Digital Wellness
Over 90% of school age kids report regular television watching, and over two thirds of parents report that their children use interactive media (such as smartphones, computers, gaming consoles, and tablets). Parents and caregivers report struggling with decisions about, oversight, and balance of their children's media habits at this age. Interactive media have the potential to be both harmful and beneficial, and we want to support you in making the decisions and taking the actions that are best for your child and your family.